Blueair AllergyGuard Plus
The Blueair AllergyGuard Plus air purifier is perfect for rooms up to 775 sq. ft.. See air purifier ratings, reviews, comparisons. Fast Free shipping and 30 day returns.
---
$899.00
---
For a limited time use promo code BLUE100 for and additional $100!

Designed specifically for those suffering from allergies and asthma, Blueair's AllergyGuard Plus air purifier is unparalleled in performance. Rated with the best performance in the removal of pollen and dust allergens, AllergyGuard Plus eliminates allergy and asthma triggers at a rate 2.3x faster than other air purifiers. Category Winner for Allergy and Pet Allergy. Free Lifetime Warranty with the purchase of an active filter subscription during the entire life of product.
---
Or just
$75
/month* for 12 months
0% interest for
12
months* 12 equal monthly payments required. Everyday Financing
Learn More
Product Specifications
Room Size:
775 square feet
Size:
26"H x 20"W x 13"D
Weight:
35 lbs.
CADR:
500 Smoke, 500 Dust, 640 Pollen
Power Requirements:
AC 120V, 60 Hz
Energy Consumption:
15-100 watts
Particle Filter:
HEPASilent
Warranty:
5-yr limited manufacturer's warranty/ Lifetime with Filter Subscription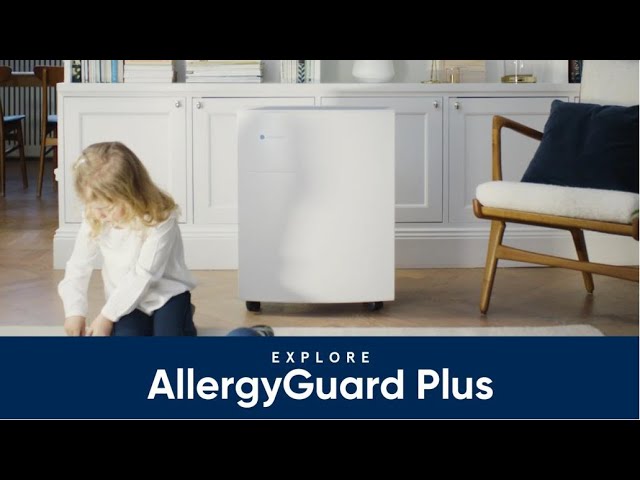 ---
Features
For high-efficiency particle removal and odor control
Maximum room coverage: 775 sq. ft.
PM2.5 Sensors
Temperature/ humidity and VOC sensor
Wifi enabled - Free downloadable APP
Award winning Swedish design
HEPASilent™ Filtration technology
Includes 1 HEPASilent particle filter of polypropylene
Captures 99.97% of all particles down to 0.1 microns
Zero ozone emission
3 fan speeds
Near silent operation: 32-56 dB(A)
Easy to use digital controls
Air inflow through bottom & sides, outflow through top & sides
4 caster wheels
Energy Star qualified
CARB certified
Color: White with dark grey
---

Product Overview

HEPASilent technology uses a combination of electrostatic and mechanical filtration to expertly target and eliminate 99.97% of allergy and asthma triggers such as, pollen, dust, mold and pet dander, down to 0.1 micron in size. Sneezing, congestion and itchy skin caused by allergies make a good night's sleep of utmost importance. The AllergyGuard Plus is whisper-silent on low while still effectively removing allergens. This low sound output is enabled by AllergyGuard Filters which are less dense and thus allow for less air pressure. Because the filters are optimized to be used with HEPASilent technology, AlleryGuard Plus maintains a best-in-class Clean Air Delivery Rate with a quiet delivery and less low energy consumption.

AllergyGuard Plus filters are made with pol-propylene that prevents bacterial growth, are free of chemicals and binders, and resist clogging so they won't re-release particles back into the air. All-natural activated coconut carbon targets gaseous pollutants including irritating VOCs and odors that often trigger asthma.

Built-in sensors continually monitor room air quality, sending reports directly to your smartphone. Set to AUTO mode and breathe easy – the air purifier will automatically adjust fan speed in real-time to ensure allergen levels remain low. Track personalized air quality data via the Blueair Friend app, as well as check the outdoor air quality in your area so that you can plan appropriately.

Performance you can count on, each Blueair purifier is independently verified by the Association of Home Appliance Manufacturers (AHAM) for clean air delivery rate (CADR), ENERGY STAR rated, and certified by the California EPA Air Resources Board for ozone emissions. Blueair certified replacement filters should be used to maintain filter performance and warranty, and replaced about every 6 months, depending on use.
HEPASilent TechnologyTM eliminates 99.97% of airbone allergens including dust, mold, ragweed, pollen and pet dander
---
AllergyGuard Plus Filters are specially designed with highly-porous coconut carbon in combination with particle fibers to target allergy and asthma triggers including odors, VOCs and other gases 4x faster than other carbon filters
---
Up to 775 sq. ft. of clean air. Breathe easier knowing that the AllergyGuard Plus is verified by AHAM to circulate all of the air 5 times an hour in rooms up to 775 sq. ft.
---
Built-in sensors measure room air quality and send reports directly to your smartphone. Set to auto mode, the AllergyGuard Plus will automatically adjust fan speed in real-time to keep allergen levels low.
---
| | |
| --- | --- |
| EXPERT REVIEW PARAMETERS | STAR RATING |
| 1. Airborne Particulate Filtration | |
| 2. Gas, Chemical & Odor Filtration | |
| 3. Room Coverage | |
| 4. Noise Rating | |
| 5. Filter Life & Replacement Costs | |
| 6. Ease of Operation & Filter Replacement | |
| 7. Quality of Construction: | |
| 8. Electronic Filter Life Monitoring | |
| 9. Manufacturer's Credibility, Warranty & Return Policy | |
| 10. Quality of Filters | |
| 11. Value for Price | |
