Blueair Sense+ Air Purifier
The stylish Blueair Sense+ air purifier is a perfect choice for medium sized rooms up to 390 sq. ft. Available with HEPASilent particle filters. See Air purifier ratings, reviews, comparisons and reports by consumer experts. Fast Free shipping and 30 day returns.
The Blueair Sense+ is quiet, stylish offers multiple control options and features an improved filter design that include carbon pre-filters and are pretty easy. True to the brand, this Blueair offers extremely quiet operation and a high level of air exchanges for a healthier, cleaner environment. The Sense+ also draws less energy than a typical light bulb so you will not experience high electrical operating costs. We love the hand motion controls that allow you to change air flow speed by a simple wave of the hand. The free, downloadable Blueair Friend App brings air purification monitoring and controls to a whole new level of sophistication and will be appreciated by anyone with a smartphone.
---
$399.99
---
The Blueair Sense+ air purifier is Blueair's newest air quality solution. The Sense+ quietly delivers pristine, clean air reducing allergy and respiratory risks. Bold, contemporary style houses Blueair's HEPASilent technology which removes harmful airborne pollutants from rooms faster than competing products. The Sense+ air purifier adds the ability to control your unit from anywhere with integrated WIFI from your smartphone. The Sense+ quickly and quietly cleans the air in rooms up to 350 square feet. If style is your thing, the Sense line of air purifiers has won numerous awards for innovation and design, combining the very best in Swedish engineering and functional aesthetics. The new Sense+ Sense offers intelligent hand motion controls and even indicates when it's time to change the filter relative to usage and air pollution, not just based upon a timer. Available in 6 bold, stylish colors.
---
Or just
$33
/month* for 12 months
0% interest for
12
months* 12 equal monthly payments required. Everyday Financing
Learn More
CUSTOMERS ALSO BOUGHT
Blueair Sense+ Series Replacement Particle Filter Set
|

$79.99
LEARN MORE >
Blueair AllergyGuard Plus
$999
|

$899.00
LEARN MORE >
Blueair Classic 205 Air Purifier
$499.99
|

$349.00
LEARN MORE >
Product Specifications
Room Size:
186 square feet
Size:
19"H x 18.5"W x 7"D
Weight:
24 lbs.
CADR:
120 Smoke, 140 Dust, 150 Pollen
Power Requirements:
AC 120V, 60 Hz
Energy Consumption:
7-45
watts
Particle Filter:
HEPASilent
Warranty:
5-yr limited manufacturer's warranty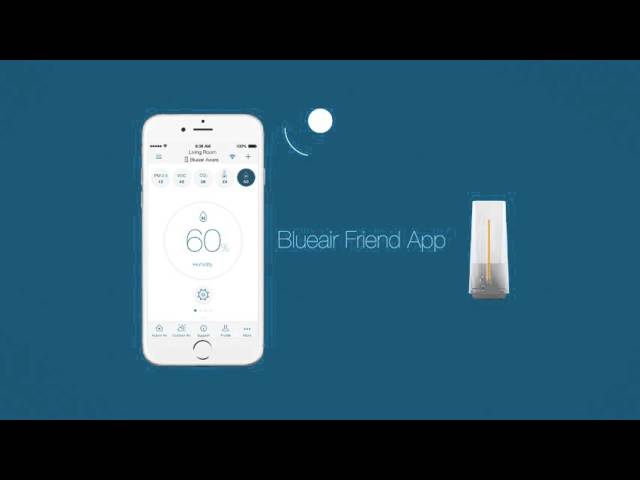 ---
Features
Capture 99.97% of harmful particles
wraparound grill is designed with a 90% open area ensure that as much air as possible passes through
some of the highest CADR rates for its size
Filter replacement indicator
Operate the 3-speed controls on the unit or remotely via a smartphone or tablet
on the highest setting, it uses an environmentally friendly 46 watts
With 6 colors, finding the unit that best fits your home is easy
HEPASilentPlus with Activated Carbon Screen
3 fan speeds
Ultra quiet operation: 29-50 dB(A)
Energy Star rated
---
| | |
| --- | --- |
| EXPERT REVIEW PARAMETERS | STAR RATING |
| 1. Airborne Particulate Filtration | |
| 2. Gas, Chemical & Odor Filtration | |
| 3. Room Coverage | |
| 4. Noise Rating | |
| 5. Filter Life & Replacement Costs | |
| 6. Ease of Operation & Filter Replacement | |
| 7. Quality of Construction: | |
| 8. Electronic Filter Life Monitoring | |
| 9. Manufacturer's Credibility, Warranty & Return Policy | |
| 10. Quality of Filters | |
| 11. Value for Price | |
